Getting off Akismet's blacklist
It seems that all my comments on blogs in the past few days are getting labelled as SPAM. I started to wonder after a few days when my comments weren't showing on blogs that normally welcome my comments. I checked with a few friends and checked on some of my other blogs, just to confirm this. It appears that my name / email address / URL / IP address combination are somehow triggering these filters. It came as a shock, as I don't really bombard blogs with comments, I guess that for every 50 or 60 blog posts I read, I leave 1 comment.
Getting off the Akismet Blacklist
After reading around, a little the only solution I've come up with is to contact Akismet and fill out a support question. And wait until you hear back from them.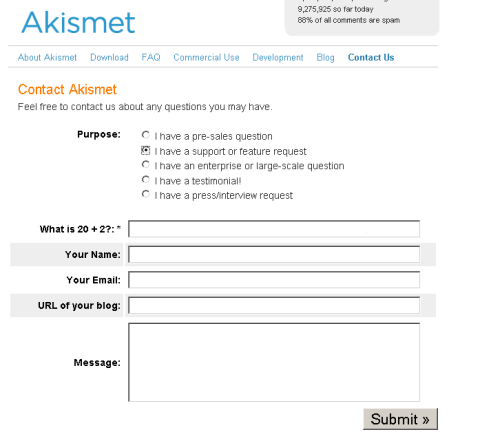 So for now I will be taking it easy commenting on blogs. I've tried to change the name, leave the email address and IP address and omit the URL, and it still thinks I'm a spammer. 🙁
Knowing when you are blocked by Akismet
I would be really nice if there was a way to find out if your name / email address / URL / IP address were indeed flagged as SPAM, but maybe this would counteract the good work that Akismet does. Actually, thinking a bit more, there might be one way, if your comment is held in moderation by wordpress, and it's supported by your theme, it will display a notice, saying that you need to wait for your comment to be approved, that it's awaiting moderation. Some themes even display your message to only you (using session variables). And when it's flagged as SPAM you don't see any difference on the blog post once you've added your comment.
Let's see when I can get back to commenting on other people's blogs …