LeWeb 2013
This week I was in Paris for a few days, to go to LeWeb and to present at a workshop hosted by Bing (see my presentation on SlideShare below). It was my first time at this event, although it's one that I've had my eye on for the last few years. It was Le Web's 10th year of operation, and the theme of the conference was "The next 10 years".

First impressions
My first impressions of Le Web was the long line for badges. Waiting 45 minutes to get access to an event (and missing the opening) was disappointing. Thankfully it got better from there.
Follow online
The great thing about these tech events now is that you can follow a lot of them in real time online. Le Web offered live streaming for their two tracks online via YouTube. I counted 5 cameras at the main stage, which lends itself to creating very high quality videos. They had a curated twitter feed, which was displayed right behind the speakers at times, which was great.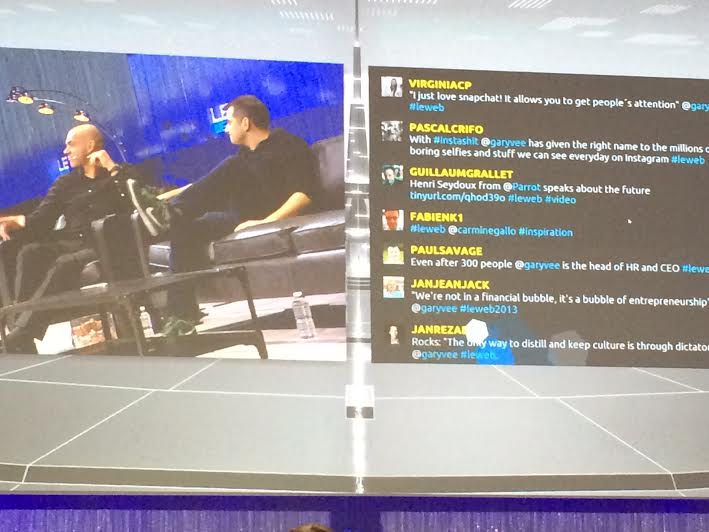 The Speakers
The speakers lined up for Le Web were pretty impressive. I've never seen Guy Kawasaki live, and I was excited to drop in on that session. Sadly Guy seemed more worried about the towels in his hotel rather than speaking about things that actually matter. If you have 40+ minutes to waste you can see his session [here. He was nice enough to pose for a photo though !
There did seem to be plenty of seats at these sessions. So I wonder are the numbers down for Le Web.
#Leweb seems curiously empty. Where is everyone?

— Ben Rooney (@benjrooney) December 10, 2013
Talks to check-out
I particularly liked these talks, they are well worth checking out.
"In china hardware flows like software" @brady #leweb pic.twitter.com/nHtoU1glhp

— Paul (@paulsavage) December 11, 2013
The Summit versus Le Web
There was a lot of comparison between these two events, seeing as they are aiming at the same audience. Both have their advantages and if you have the funds & time then both are worth checking out. If you have to pick between one or the other, I would say that The Summit would be the leader here and it will be the one I'll be definitely visiting in 2014. You can read my take aways from The Summit in 2013.
Le Web 2013 – When reading is not an option