That SEO contest
Yesterday Damien's SEO contest came to an end and google has been very nice to my entry mybluejumper.com . The basic rules of  the competition were to:
rank highest for the term [geansai gorm] on google.ie
domain name had to be new
.IE domains were not allowed
no keywords allowed in the domain name
And here are the results: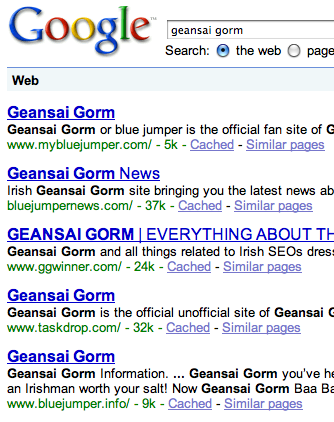 Hats off to the other guys who but in some great efforts. I counted around 15 entries, all though I am not sure if some of them were created by the same person.
A longer post will be following in a few days hopefully. Where I will be outlining some approaches I took to things (obviously some things I won't be discussing). As I am a great fan of stats, here are some:
Overall I had unique visitors 788 to the website.
The resulted in almost 6, 000 page views.
The busiest day (besides December 1st) was November 16th where 73 visitors came and looked at my entry.
531 people visited via the keyword "geansai gorm"
strangest keywords were "photosesion dublin" and "gigs in kerry"
google delivered 601 visitors
windows live gave 40 visitors
yahoo sent 20 visitors
2 people came via MSN search
17 blog posts were created
google indexed 36 individual pages.
232MB of bandwidth was used by visitors
7MB of bandwidth was used by googlebot
Daily search positions of the entries can be seen here.
Stay tuned or subscribe to my RSS feed for updates.