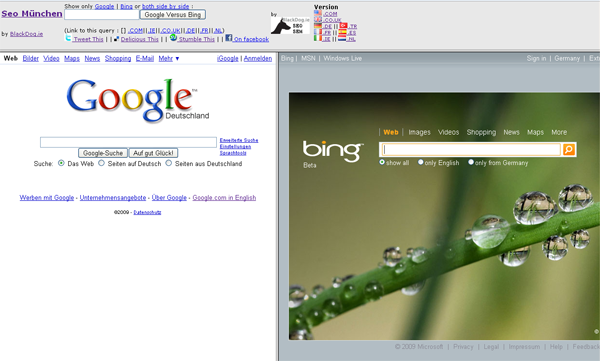 Main Search Screen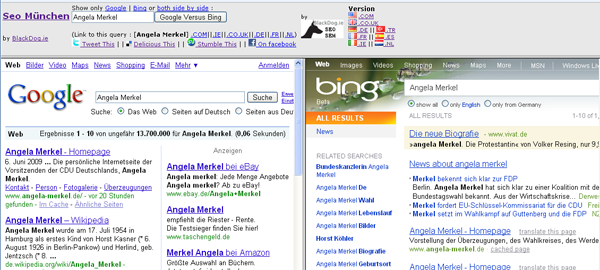 Results Screen










About the Tool
Welcome to our Google / Bing Comparison tool. Enter your query and we will return the results for both searach engines. You can easily see the difference in the quality of the results as they are displayed side by side. If you have comments about this tool, please leave them on our Bing Review. This tool started out as something rather basic, but thanks to your feedback we have expanded it to be more internationalized, and user friendly. Please excuse the patchy design, but our focus was on the usability and to be able to launch a product sooner rather than later.
Other Tools
We have also created a tool to compare Google and it's new beta version, google caffeine. This tool Compares Google Caffeine and will really show you what you can expect from Google in the future. It displays the search results in 2 windows, and synchronizes scrolling. Try it out for yourself at www.comparecaffeine.com.
About Us
We are a internet company specialising in SEO in Munich, Germany. We offer conversion optimisation & search engine optimisation, specialising in English SEO for German Companies. BlackDog over 5 years experience in web optimisation, and since 2009 is an independant company, run by Paul Savage.
Other Sites
This is just one of our websites, and we would like to thank you for using it. Besides this tool, we hope that you drop by our dogs for sale website site, where we offer the opportunity to post free classified ads, either for dogs wanted or dogs for sale. Soon dogs.ie will be offereing the facility to join to find stud dogs. dogs.ie also is a fountain of knowledge about dog care and a community for dog lovers in Ireland. If dogs, are not you think you can check out our resource about skiing holidays. Whether you are a new skier or an experienced snowboarder you will find great tips provided by our highly skilled staff. With over 200 active members skiing.ie is Ireland's premier skiing website, which shows you how to book your skiing holiday yourself.
Let Other People know

Tweet This and while you are at it, follow me on twitter under @savagepaul.